Wildlife Sanctuaries in Gujarat
The Gujarat state of western India has four National Parks and twenty-one Wildlife Sancturies which are managed by the Forest Department of the Government of Gujarat. The main wildlife sanctuaries in gujarat are ...........
Wild Ass Sanctuary
Wild Ass Sanctuary in gujarat which comprises 1153.42 Sq. km. loacated in Little of Kutch Runn Surendra Nagar. The main wildlife are Chinkara, Bluebull, Blackbuack, Wolf Fox.
Nal Sarovar Birds Sanctuary
Nal Sarovar Birds Sanctuary in gujarat which comprises 120.82 Sq. km. loacated in Nalsarovar Ahmedabad. More than 200 types of birds land in this lake having made an equally long journey to escape the harsh winter of their nesting areas.
Jessore Sloth Bear Sanctuary
Jessore Sloth Bear Sanctuary is situated in the Banaskantha district, 45 kms. from Palanpur. Declared as Wildlife Sanctuary in May 1978, this 180.66 sq.km. forest tract of Jessore hill and adjoining areas is endowed with several rare and endangered species of flora and fauna. Located in the folds of Arravali hills. Jessore hill is the second highest peak in Gujarat. The important faunal species are leopards, Rhesus macaque, Indian civet cat, porcupine, fox, striped, hyena, wild boar, sloth bear
Barda Wild Life Sanctuary
The Sanctuary hardly has 192.31 sq. km area, but has one of the most diverse floral compositions and therefore a potential source of remedies of many ailments, and therefore deserves to be safeguarded. At least two species of birds, which were found in the Sanctuary, are rare/ endangered, to name a few: Spotted Eagle and Crested Hawk-Eagle.

Marine National Park
Gujarat has the distinction of creating the country's first Marine National Park spread over an area of nearly 458 Marine national parks,wildlife parks in india,indian wildlife,Wildlife In India,indian wildlife tourssq.kms. in the Gulf of Kutch, 30 km. from Jamnagar. Here corals create fantasies in stone and are the master builders of the Park. Their limestone fortresses – those found near the Pirotan Islands and the rich moist deciduous forests like those found in the dense forests of the Danes. One of the most threatened birds, the great Indian bustard finds a refuge in certain pockets of protected areas. The world's only four-horned antelope, the chowsingha is found here in healthy numbers. One of the largest herds of blackjacks grace the grasslands of Velavadar and till recently Gujarat was the place where flamingos nested in huge numbers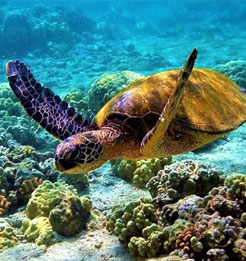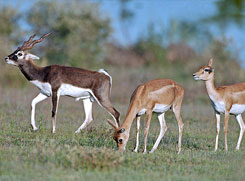 Narayan Sarovar Sanctuary
Like the Wild Ass Sanctuary, Narayan Sarovar is home to a wide array of wildlife, including many species (15 of which are considered threatened) of mammals, reptiles, and birds. The principle species here is the chinkara, an Indian gazelle. In this harsh landscape, only animals well-adapted to the desert climate can thrive, with extreme heat, high winds, and frequent storms. For this reason, many species can be seen here that are not easy to find elsewhere.
Shoolpaneshwar Wild Life Sanctuary
The Sanctuary encompasses an area of 607.71 sq. km in Narmada district, which comprises a major watershed, feeding the Sardar Sarovar and the Karjan reservoirs. Hilly tract of the Sanctuary bordering Narmada supports some of the best forests in Gujarat. The physical aspect is dominated by the Rajpipla hills. DhamanMal, the highest peak located in the eastern portion, is about 882 m in altitude. The general slope of the area is towards the west.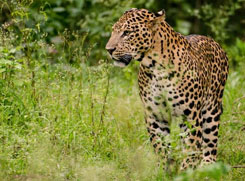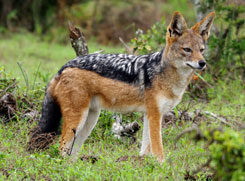 Balaram Ambaji Wild Life Sanctuary
Undulating hills of Aravali, supporting the dry deciduous forests of North Gujarat, provide an unimaginable beautiful ambience to Balaram-Ambaji Wildlife Sanctuary. The unique ecosystem harbours 483 species of plants including 107 of trees, 58 of shrubs, 219 of herbs, 49 of climbers, 40 of grass and 10 species of lower plants. Modad, khair, dhavado, saledi, kadaya, timru, khakhara, bor, desi baval, bili, dudhi, golar, kanji, indrajav, karanj, arjun sadad, jamun, behda etc.
Jambughoda Wildlife Sanctuary
An easy destination to combine with a visit to Champaner is the Jambughoda Wildlife Sanctuary, a mere 20 km away (70 km from Vadodara). Full of forests of teak and mahuda trees, bamboo, and other lush vegetation, Jambughoda is home to large populations of many kinds of wildlife. The leopard at the top of the food chain is the primary predator, and its numbers have been increasing recently. Other large wildlife include the wild boar, nilgai (blue bull, the largest antelope in Asia), jackal, hyena, barking deer, sloth bear, and chausingha(four-horned antelope).