Fauna in Gir
Gir National Park is successfully managing in sheltering a huge number of fauna and avifauna unique species. Forty species of mammals and four hundred and twenty-five species of birds live in Sasan Gir. World-famous Asiatic Lions can only be found in Gir, which is the only natural habitat in India. You can find around 2,375 diverse species of wild lives in the Gir forest. The healthy population of the unique species of birds can be spotted here.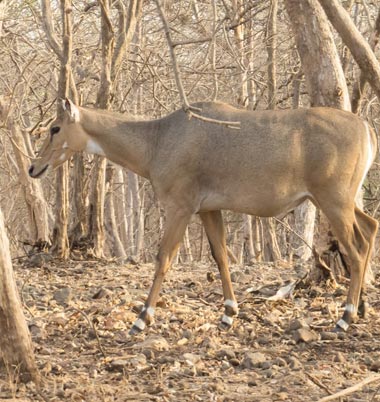 According to the statistician's estimate, there are more or less three hundred species of leopards and lions in the country. Nevertheless, Gir is renowned for having Asiatic lions reserved in it, which makes it unique habitat. There is only one place after Africa that has more Asiatic lions than Gir. Leopards and lions are not the only animals found in this park; but also more than 2 thousand species of insects, 38 species of animals, 27 species of reptiles, and more than 300 species of birds. The bird inhabitants contain the greenish warbler, the pigeons with golden feet, the Griffon Eurasian predator, the wavering Hawk Eagle, the Bonelli's Eagle, the Indian Pitta-Quail, and the woodpeckers like the crested, treeswift, and the pygmy woodpecker. The Gir forest fauna has full potential to let the tourists spot wilds like porcupines and hares next to carnivores like jungle cats, black hyenas, Indian leopards, Indian mongooses, and golden jackals.
Herbivores group of Animals
The real herbivores of Gir are chital, four-horned antelope, nilgai, sambar, wild boar, and chinkara.
Carnivores group of Animals
They are Asiatic lion, Indian leopard, jungle cat, striped hyena, golden jackal, Bengal fox, Indian gray mongoose, honey badger, ruddy mongoose, and striped hyena.
Group of Female Asiatic Lions, Male, Cubs in Gir National Park
There are 201 female lions, 109 male lions, and 213 cubs in Gir National Park. 
300 Birds Species
According to the estimate, there are 300 species of birds have been recorded. They are Dalmatian Pelican Pelecanus crispus, Greater Spotted Eagle Aquila clanga, Indian Skimmer Rynchops albicollis, Oriental White-backed Vulture Gyps bengalensis and Long-billed Vulture Gyps indicus.
Reptiles
Reptiles' wide variants of reptile species are 27 in number. They are Monitor lizard, Hare Tortoise, Marsh Crocodile, Flap Shell Turtle, Indian Star Tortoise, Indian Wall Lizard, Common Garden Lizard, Fan Throated Lizard, Indian Chameleon, Common Keeled Skink, Snake Skink, Common Sand Boa, Red Sand Boa, Common Monitor Lizard and more.
Marsh Crocodiles
Marsh Crocodiles are in the largest number available in Gir than anywhere else in India. The tiny area of the Gir jungle is reserved for the care of the crocodiles.