Gir Jungle Trail (03 Hours)
If you are a wildlife enthusiasts then spend a day of your life with the majestic protected and preserved well in Gujarat's Gir National Park. Also known as Sasan Gir Forest this wildlife sanctuary is noted in the world for not only being one of the few known natural habitats of the Asiatic Lion but also for the extra effort made for preserving this majestic species getting extinct. Sasan Gir is the only place on the planet except Africa where you can see them.
Sprawl over an area of 1,412 square kilometres the park has a unique landscape comprises of hills, plateaus, sharp ridges and portions of seven major rivers of the region such as Datardi, Hiran, Raval etc. Gir houses more than 400 species of fauna and 2300 species of fauna.
And if you wish to explore the jungle of Gir National Park then open Jeep Safari ride is the most feasible option. Gir Jungle Trail Safari is operated by the forest department Sasan Gir in three shifts. Four wheeler Gypsy enter into the core area of the in two shifts – morning and evening respectively. Morning jeep safari timing is from 06:45 AM to 09:45 AM and 08:30 AM to 11:30 Am and evening slot is from 03:00 to 06:00 PM. You may get chance to see Asiatic Lion, leopards and many other wild species, avifauna & rich flora and fauna.
One Jeep can accommodate maximum of 6 adult travellers and one child. Age up to 12 years considered as child and above 12 years treated as adult for safari booking. If numbers of adults are less then more children can be added up to 7. Since you need to hire an exclusive Jeep for one ride and not per person is charged. Jeep safari coast is same for one person and 6 person boarding the jeep.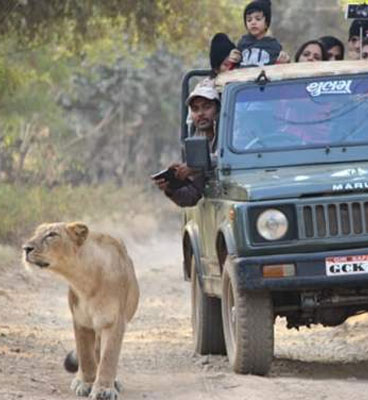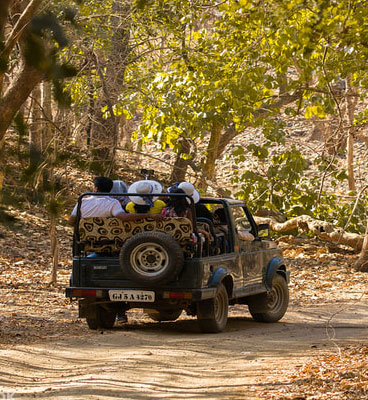 What is included in this Gir Jeep Safari Tour?
Permit cost issued by state Forest Department to enter into the Gir Jungle Trail.
Open, Jeep, Driver & Guide approved by Forest Department
Passport / Driving License / Aadhaar Card / Voter id Card required.
Online Payment Charges and Goods & Services Tax
Safari assistance service charge who will guide you while boarding
What is not included in Jeep Safari Booking?
Camera fee, if any
Pick –up & drop facility from resort/hotel. This facility can be arranged at extra cost.
Boarding Place and Time
Reporting or boarding point for Jeep Safari in Gir is Singh Sadan Sasan Gir. You need to report at reception centre at least 30 minutes before scheduled safari time.
| Season | Safari Timing | Reporting Time |
| --- | --- | --- |
| Winter (16th October To 28th/29th February) | 6:45 to 9:45 am | 6:15 AM |
|   | 8:30 to 11:30 am | 8:00 AM |
|   | 3:00 to 6:00 pm | 2:30 PM |
| Summer (1st March To 15th June) | 6:30 to 9:30 am | 6:00 AM |
|   | 8:30 am to 11:30 am | 8:00 AM |
|   | 4:00 to 7:00 pm | 3:30 PM |
Note: Gir National Park and Jungle Trail activities remains closed from 16th June to 15th Oct every year. However, you can enjoy Devaliya Jeep Safari throughout the year.