GIZ Devalia Jeep Safari (01 Hour)
Jeep Safari in Devalia or Gir Interpretation Zone is the forest department organised safari. It is located 13 kilometres away from Sasan, it comprises of 412 hectare of chain link fenced area conceptualised as a distinct eco-tourism zone.
Devalia Park offers complete wildlife experience to travellers and reduces visitor overload from Gir National Park. Capturing of Asiatic Lions and other wildlife species of Gir are easy, within short span of time and at an affordable price.
Sighting opportunity in Devalia Safari Park
Devalia Interpretation Zone provides an opportunity to see many rare avifauna species including Peafow and vultures along with Asiatic Lions. The presence of Savana habitat and other flora is also the major attraction of the area.
Asiatic Lion.
Indian Leopard.
Passport / Driving License / Aadhaar Card / Voter id Card required.
Golden Jackal.
Spotted Deer.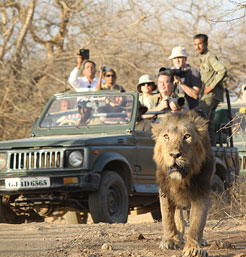 How to Reach Devalia Safari Park
By Air – You can come up to Rajkot or Ahmedabad and from there you need to take or hire cab to reach Sasan Gir and Devalia Park.
By Rail - Jungagarh is the nearest railway station which is well connected to Rajkot and Ahmedabad. From Junagarh Devalia Safari park is located at 55 kilometres. You can also come via local trains from Junagarh to Sasan Gir Village. (Though this route is not preferred)
By Road - Devalia Interpretation Zone is located about 56 kilometres from Junagarh city and only 13 kilometres from Sasan Gir. State government operated bus, cab or taxi can be taken from all major cities of Gujarat to reach Devalia.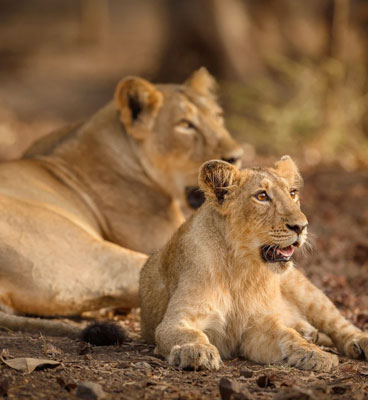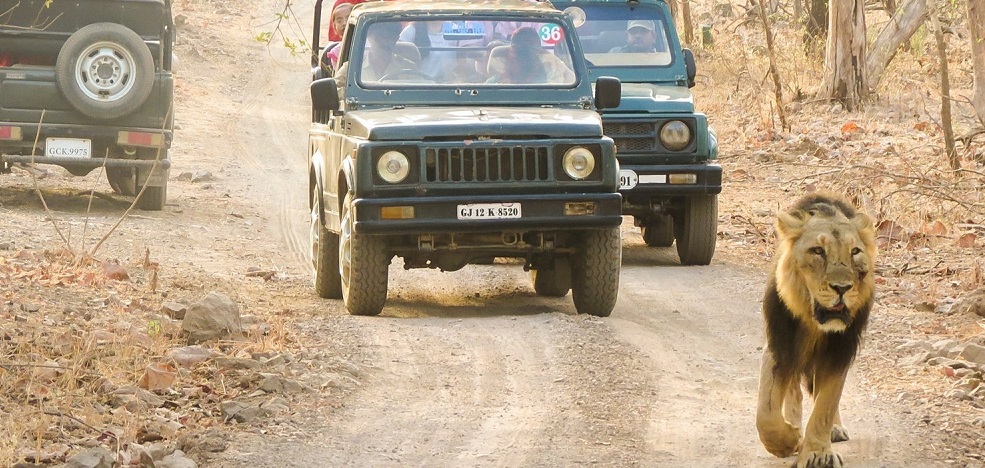 Devalia Safari Booking Procedure:
While making booking for Devalia it is mandatory to provide Identity proof detail of all members. ID proofs given at the time of making booking will be verified with the original ID proofs at safari boarding time. Safari boarding would not be allowed if found discrepancy and any refund will not be processed in such situation. No other ID proofs are accepted other than mentioned in the booking form.
Once the safari permit is booked and issued, no any kind of alteration is possible such as change in the ID proof number, name of the traveller, addition or deletion of person, change in safari date, time and slot.
Note: If you have made the payment online on our website and in case safari is not available then we will refund full amount within two working days in case of unavailability of requested jeep safari. Forest department of Gir national Park, Gujarat keeps the full right to cancel the permit or slightly modify the timing and zone in any unavoidable circumstances.
Bus & Gypsy Timings
Note : Though Devalia Park remains open for visitors round the year, it remains closed on every Wednesday.
Bus Timings :
Morning Time: 7:30AM to 11AM
Evening Time: 3PM to 3:30 PM | 3:30 PM to 4 PM | 4:30 PM to 5PM
Gypsy Timing:
Morning Time: 7 AM To 7:55 AM | 8 AM To 8:55 AM | 9 AM To 9:55 AM | 10 AM To 10:55 AM
Evening Time: 3 PM To 3:55 PM | 4 PM To 4:55 PM | 5 PM To 5:55 PM
What is Devalia Safari Park / Gir Interpretation Zone?
In order to reduce the overload burden from main tourism zone of Gir National Park, and to facilitate nature lovers to understand the importance of Gir and its wildlife – Devalia Interpretation Zone has been created. It is sprawl over an area of 412 ha of chain-link fenced area which is copy of Gir that covers all habitat types and major wildlife species. Tourists can see here various wildlife species such as spotted deer, blue bulls, wild boars, blackbucks, sambars and chinkaras.