Here's Complete Information About Sasan Gir National Park
Sasan Gir National Park located in Gujarat is only place in whole of Asia where you can spot lion roaming freely in their natural habitat. If you are planning to visit here, then it will be very beneficial for you to know the important things about this place before going. Here we are going to give you all the necessary information about Sasan Gir National Park such as where is Gir National Park? In which state is the Gir National Park located? How to go what to watch? And many more things! So let's read about facts of Sasan Gir.
About Sasan Gir National Park :
"Gir National Park" is a National Park and Wildlife Sanctuary in Gujarat. This is the second place in the world after Africa where you can see a lion roaming freely.
It is located near the town of "Talala Gir" in the state of Gujarat and is spread over an area of 1424 square kilometres, of which 258 square kilometres is the national park and rest 1143 square kilometre wildlife sanctuary.
Gir National Park is spread over part of Junagadh, Amreli and Gir Somnath districts in Gujarat. It is part of the Kathiawar-Gir dry deciduous forests. It is also known as "Sasan Gir National Park".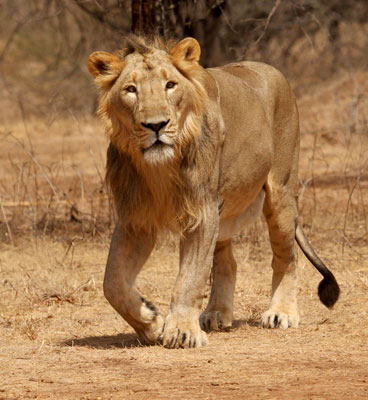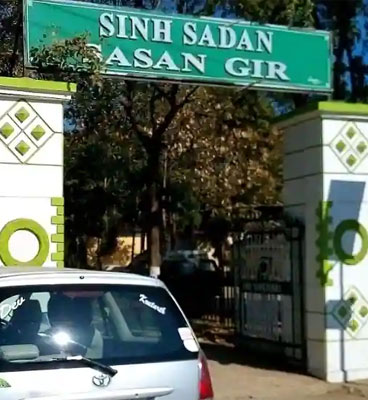 Gir forests got the status of National Park in the year of 1969. Let me tell you, its history is more than 100 years old. Since ancient times, due to excessive hunting of lions and other reasons their species came on the verge of extinct. After the extinction of the lion species in many states across India, in 1900, Gujarat was the only state where there were 15 lions left. To save the endangered lion species, the Nawab of Junagadh banned the hunting of lions and declared the Gir area as a protected sanctuary.
Why Gir National Park Is Famous ?
As we have been told earlier, Gir National Park is a National Park and Wildlife Sanctuary and it is the second place after Africa where lions live freely in the forests and roar. This place is famous all over the world for Lion Spotting or "Singh Darshan" and is a center of attraction for migrants.
Abundance Availability Of Flora & Fauna
Here you will get to see many types of wild animals and birds. According to the latest census conducted in June 2020, the population of Asiatic Lion had risen by 29 per cent in the last five years. In 2020 forest department has counted 674 lions in the Gir National Park. Apart from this, Gir is an abode of approximately 300 leopards.
More than 200 species of birds and more than 40 species of reptiles and amphibians are also found in Gir National Park. A large number of crocodiles are present in the Kamleshwar Park.
The park is home to king cobras, Russell's vipers, saw-scaled vipers and kraits as well as several other snake species. Apart from this, Asiatic lion, hyena, chinkara, python, Nilgai, Malabar whistle, Terni eagle, etc. can be seen here.
Best Time To Visit Gir National Park
The Gir National Park remains closed from mid-June to mid-October as this is the time for the arrival of the Southwest Monsoon and the chances of rain are high.
Similarly, you can visit anytime from mid-October to mid-June. But December to March is the best time to visit Gir National Park and there is no chance of rain at this time.
Best Places to Visit in Gir
Near Gir National Park "Kamleshwar Dam, Janjir Waterfalls, Kankai Temple and Devaliya Gir Interpretation Zone" are special places to visit. You can also go here and enjoy the journey.
Kamleshwar Dam : Kamleshwar Dam is also very famous inside Sasan Gir National Park in Gujarat. Kamleshwar Dam is built on the Hiran River and it is the main source of water for the animals living there.
Kankai Mata Temple : This place is located in the forest, 25 km away from Gir National Park. This temple is revered by Gujaratis. Here you can eat free food in the form of prasad. Here you have a lot of greenery, so you can roam here too.
Jamjir Waterfall : This waterfall is located in Jamwala village of Junagadh district near Gir National Park. This place is very nice to see and people who are fond of waterfalls will love this place.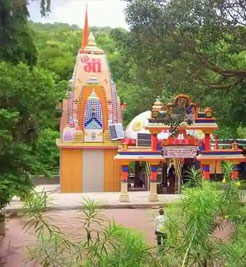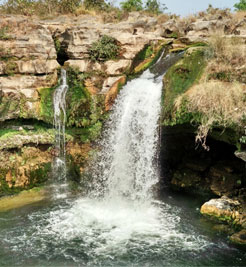 Gir Interpretation Zone : This safari park is an area connected to the Gir National Park where you can see the animal among the forests. To go here, you have to book a safari jeep and through that you can roam here.
Somnath Temple : The famous Somnath Temple is 55 km from Gir National Park. Somnath temple has been a very popular temple since ancient times. You can also visit here with family.