Best Time to Visit Gir National Park
Gir National Park is the sole home for pure Asiatic lions, situated about 65 Kilometers southeast of Junagarh district in the Indian state of Gujarat. Established on 18th September 1965; the sanctuary covers a total area of 1412 square kilometers in the Saurashtra region of Gujarat. Primarily the park was dedicated to conserving the Asiatic Lion which is identified as the world's most endangered species. Many researchers and hunters from different parts of the world come to Gir because it is the only place where lions exist other than Africa. Gir has evolved as a stable ecosystem due to the richness of biodiversity with its 606 different plant species, 2000 species of insects and 36 species of mammals, and over 300 species of birds. The dry deciduous forest of Gir covers a large tract which plays a pivotal role in keeping the climate moderate in this region. So Gir is essential to life in Gujarat.
As the tiger lovers mostly prefer to visit the Ranthambore National Park or Corbett National Park to get the sight of their favorite wild predator, the lion lovers get attracted to the Gir National Park to get the glimpse of the king of the Jungle, the Lion, in their natural habitat.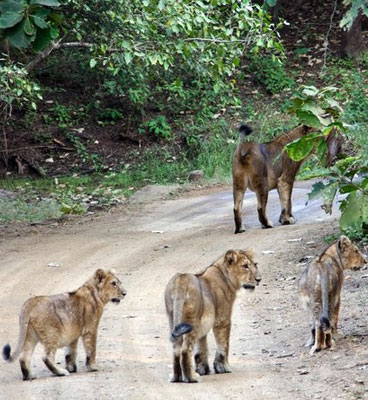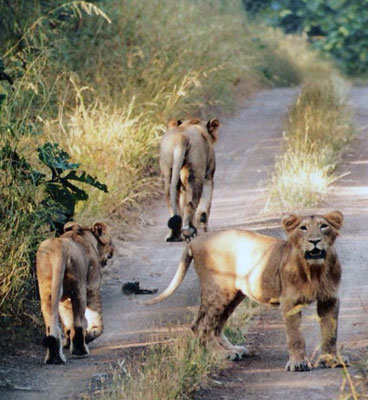 Summer in Gir National Park (March to May):
Summer season in Sasan Gir is hot and humid. The temperature during this season ranges between 28 degree Celsius to 42 degree Celsius. The summer winds are scorch here. However, summer is not preferred as best time to explore the wilderness of Gir forests.
Sometimes, there are people who wish to travel during summer season. For such travellers, it is advised to rise early in the mooring and take earliest safari ride and bind up all activities by 11 AM. In the evening it is quite comfortable and you can spend good time outdoors as the sunsets only by 7 PM. At night, cool breezes gives you soothing experience at Gir.
How To Reach Gir National Park?
The Gir National Park is situated at an approximate distance of 65 Kms from Junagarh and 40 Kms from Veraval railhead. Sasan Gir is well connected to Ahmedabad by Road and Rail network. However, the best way to Gir from Ahmedabad is by road, which takes around 07 hrs. The nearest airport to Sasan Gir is Keshod (38 Kms) and Rajkot both of which are connected to Mumbai by regular interval services.
Monsoon Season in Gir (June to October):
After hot and humid summer season the wild species of Gir gets much-needed relief during the monsoon months. During monsoon season it is impossible to conduct jeep safari. Therefore, due to rains Gir National Park is kept closed from June to October; hence these months cannot be the best time to visit Gir forests. Gir receives heavy rainfall and park's flora grows lush green and thriving. Literally, monsoon season prepares the park for upcoming tourism season.
Winter Season in Gir (November to February
Ideally, winter is the most preferred season to visit Gir National Park. Gir experiences very pleasant weather from November to February. This season is neither too hot nor too cold. The temperature ranges from 10 degree Celsius to 22 degree Celsius. The Gir weather, mixed with the lush greenery, makes this the perfect time to visit Gir and indulge in many joyful activities.
Monthly Weather in Gir National Park
Month
High/Low (Degree Celsius)
Rain
January
28 DC/13 DC
0 Days
February
33 DC/17 DC
0 Days
March
33 DC/17 DC
0 Days
April
39/22 DC
0 Days
May
37/23 DC
0 Days
May
37/23 DC
0 Days
June
34/25 DC
13 Days
July
30/24 DC
16 Days
August
28/23 DC
22 Days
September
28/23 DC
24 Days
October
32/22 DC
10 Days
November
32/20 DC
2 Days
December
30/16
1 Days