If Gir National Park is in travel bouquet and you are planning to explore the most visited wildlife destination of India then here we write something important for you. Before landing to any tourist's place we must the good knowledge of the place such as how to reach there, what is the best time to visit, what are places in and around to be enjoyed, what is booking process; is there any offline or online mode is available for advance booking. Here is a complete guide for Gir Jeep Safari Booking Procedure.
The best ways to get confirm ticket and accommodation option for any place to book well in advance. So we are one solution online booking platform that offers the easiest way to book Gir Safari Online without any pain. We warm welcome you to the online booking system for the Gir National Park. From our website you can easily book your safari entry permit in Sasan Gir forest to explore the rich variety of flora and fauna. It is important to note that Gir is the only national habitat in the world for Asiatic Lions. Four wheeler Jeep safaris are allowed to enter inside the Gir forest for the sightings of the King of the forest. Apart from Asiatic Lions; Gir is habit for various kinds of wildlife species. So we always advise tourist to book safari in advance due to the lack of safari and heavy tourists rush during the peak seasons. Advance booking for the Gir forest is available from our website. We precede all the bookings as per the procedure of the state Forest department of the Gir National Park.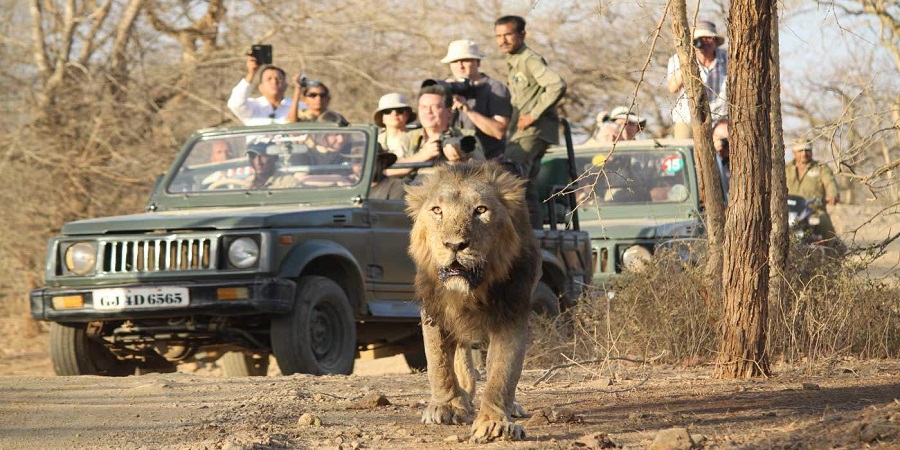 Sasan Gir Jeep Safari Information
In Sasan Gir National Park jeep safari is the only mode to explore the exotic flora and fauna of the park. No private vehicles are allowed to enter inside the park. The Jeep safari is conducted majorly in three shifts – early morning shift, morning shift and evening shift. And the number of jeep is limited to each shift. All the jeep safari booking is made only in online mode. No offline mode is possible to obtain the entry ticket. Being the sole habitat of Asiatic lions there is always huge rush for booking. A maximum of 06 adults and one child is permitted to go in one jeep accompanied by jeep driver and forest guide. Accommodation option is another important stuff to be booked well in advance and this can be also done from here. Gir Tour Package is also available for one night or two nights with all meals. We take full guarantee of outstanding services and hospitality.
Gir Jeep Safari Booking Procedure
These are the following important information is required at the time of Gir jeep booking
• Full name, Age, Sex (as per your ID proof) of every visitor is mandatory.
• Your exact Safari Date and Shift Timing (Early Morning/ Morning/ Afternoon).
• Every traveller Identity Card Number (Voter Id, Aadhar Card, Pan Card, Driving license, etc.).
• Full Entry Permit Fee to be paid in advance.
Certain Points to be kept in Mind before Jeep Safari Booking
• You have to pay the full entry fee for the safari at the time of booking only.
• Kindly provide the valid ID Proof of every tourist visiting the Gir Park.
• Any booking made with wrong or incomplete ID proof will be considered invalid and null.
• A maximum of six persons and one child can visit the park against one safari entry permit.
• Any refund or cancellation can be done as per the rules of the Gir forest department (Probably no refund is possible).
• Permits once booked/ confirmed will not be transferred to anyone.
• The confirmed permits cannot be exchanged with anyone.
• You have to show the same ID card used for booking at the time of entry into the park.
• Only the Passport is valid as an ID card for the foreigner tourists.